390-Process Parts Production with Tops, Vests and Pants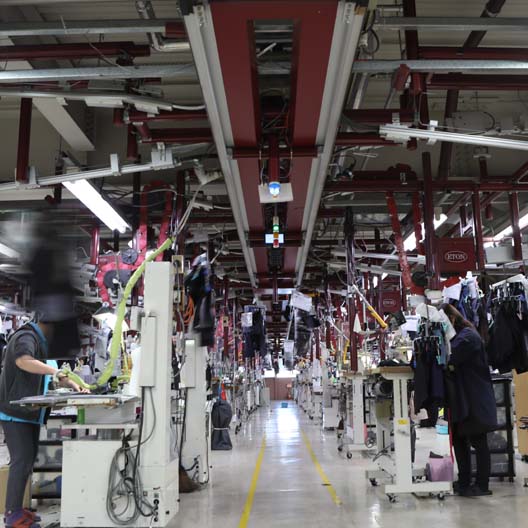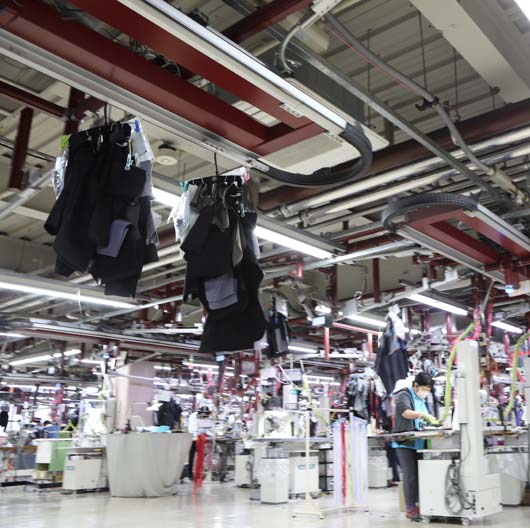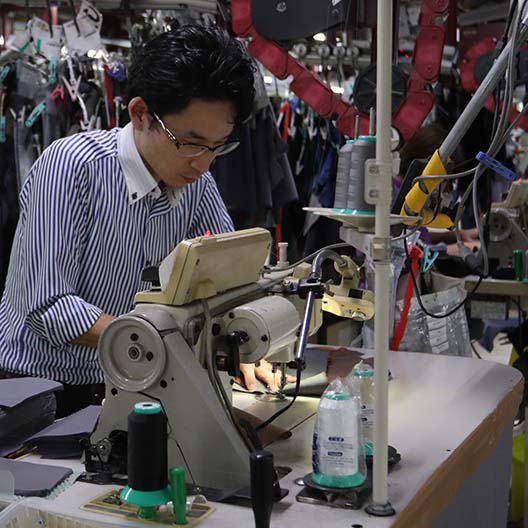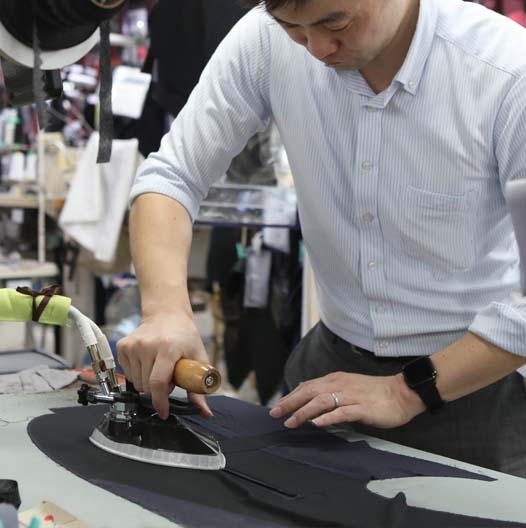 390-Process Parts Production with Tops, Vests and Pants
After being cut, a set of fabric pieces is attached to the designated place on the transportation hanger and it will automatically move to the next process. The production of more than 250 processes is carried out by many operators based on the processing instructions. The important points of the work are connected to the database via a network. The works such as the gauges, personal name embroidery and brand name tags are carefully checked on the monitors. With the introduction of a high-definition embroidery machine, you can embroider original name designs such as patterns, photos and marks that you have requested, making it your own unique design. When the front body, facings, sleeves, back, collar and other parts of the top are completed, they will be sent to the assembly center. In addition, the undergarment is sent to the assembly process at the Hamamura Factory when its front and back pieces are ready.
STAFF紹介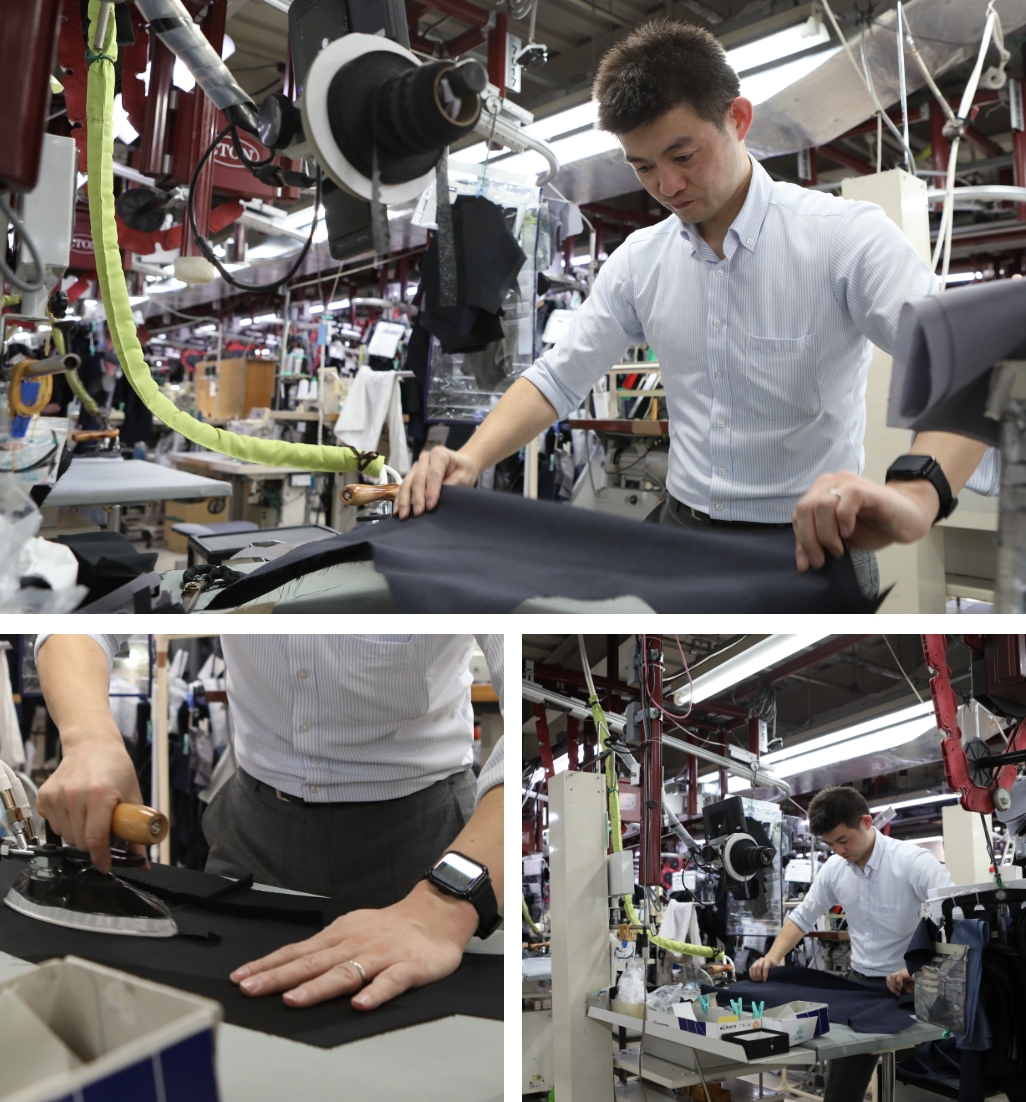 Parts Center
Mr. Katayama
PROFILE
Born in Koge Town, Yazu District, Tottori Prefecture.
I am proud of my job in making suits. I want my family -especially my two children- to feel proud of my work as well. With such a desire in mind, I come to work in a suit every day.
License/ Qualification
National Qualification: Men's clothing manufacturing: Special Grade
Goodhill Test: Level 1
Hobby
Suit making
Motto
Be humble, serious, and full of conviction.
Daily Work
Through the experience of the whole production process, I learned the importance of every small and detailed step. It might be difficult to discern at a glance what part of the suit I'm working on or why I do a particular process of suit manufacturing, but the conflation of these subtle efforts is the proof of real manufacturing.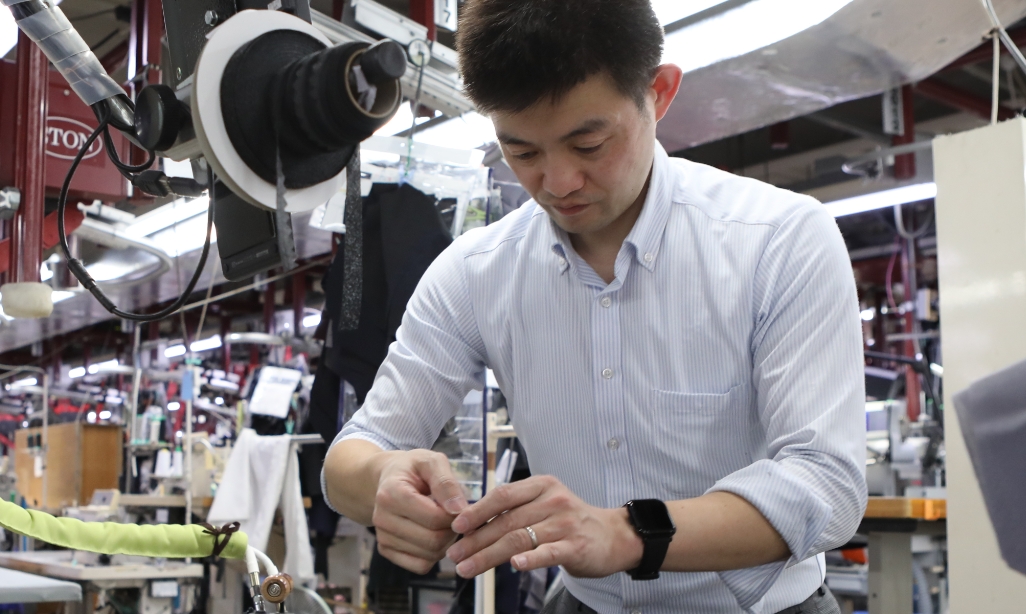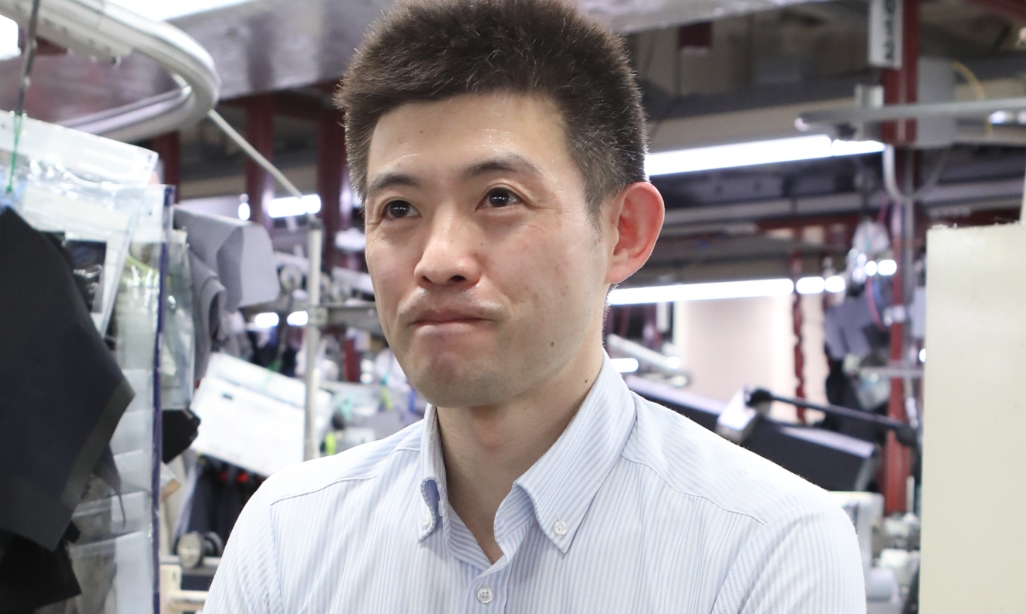 Love for Suits
As is said in any manufacturing, the whole process of completing one product is a daunting journey to unraveling a series of microcosm. Goodhill subdivides special manufacturing of custom-made suits with IT technology and realizes efficient factory production. With the efforts by dozens or even hundreds of people, one suit is delivered to a customer. That's why I think it's important for each person to consider a subdivided manufacturing manner in any work. I really love suits, so I'd like to explain the meaning and difficulty of the work. When I think that this feeling in each suit is conveyed to the customer, I can't help but do everything carefully.

NEW British model /ニューブリティッシュモデル
My Suit:Humble and Fortitude
I chose a standard navy-colored fabric that I can wear on various occasions in my daily life. It's not flashy, but in order to make it a distinctive custom-made suit that highlights my personality, I even focused on the buttons and lining even in the standard version. I aimed to express Japanese-like humbleness and chic.
Clothes Express Personality
The suit looks like the one of hotel managers, with a more serious, more humble and more sincere impression than I intended to make. However, this jacket gives a soft impression despite harshness, which suits both pants of matching and different colors.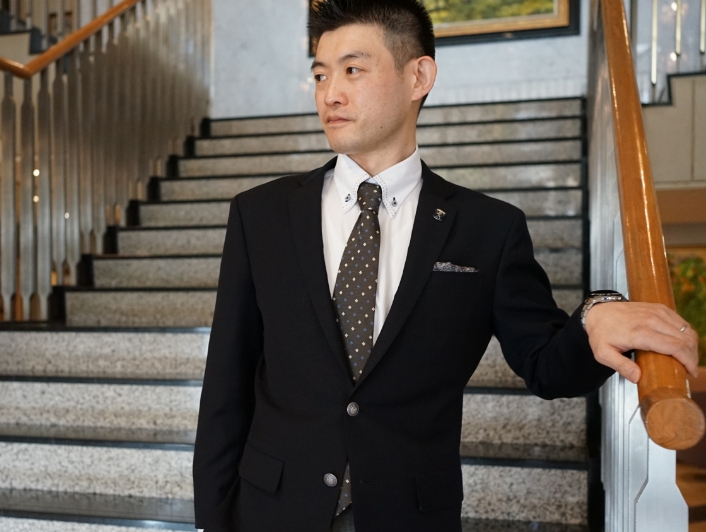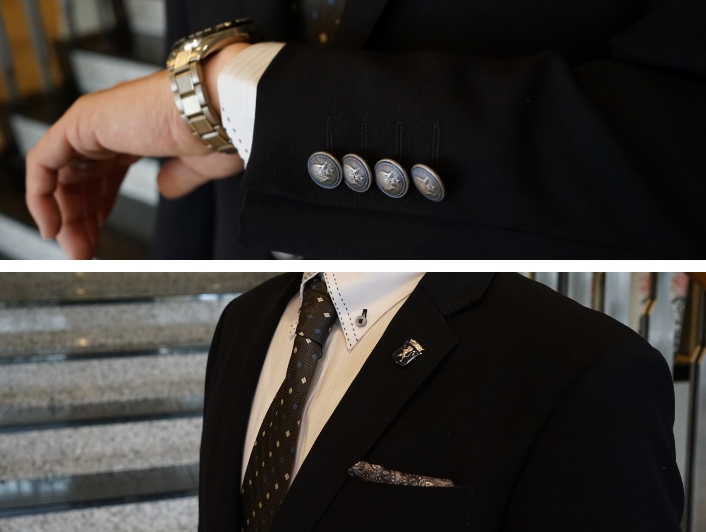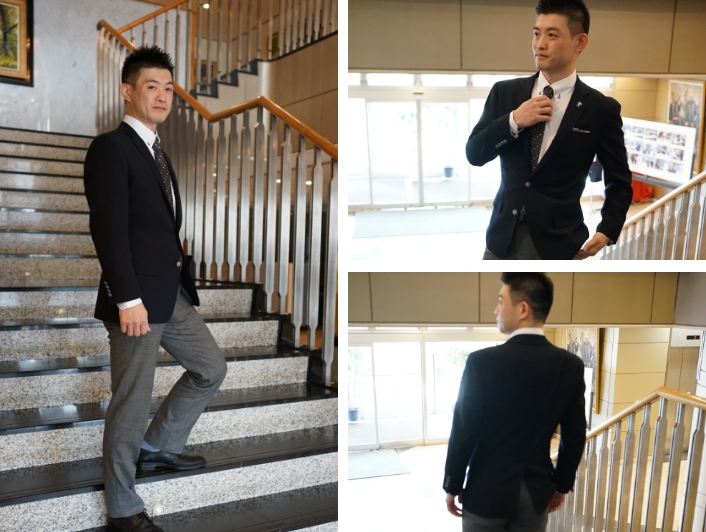 SE Model/ A Jacket with Shirt-like Sleeve Specifications
Relaxing Form
For a spring and summer suit, I aimed for one with a soft-feeling design. It gives a bright impression with a standard SE model and the characteristic outer fabric with thick and elegant-colored stripes.
Comfortable Fit for Your Body
The point I was particular about was to create a natural and relaxing impression by reducing the crisp interlining. By doing that, the suit is very light, soft on the shoulders and comfortable to wear.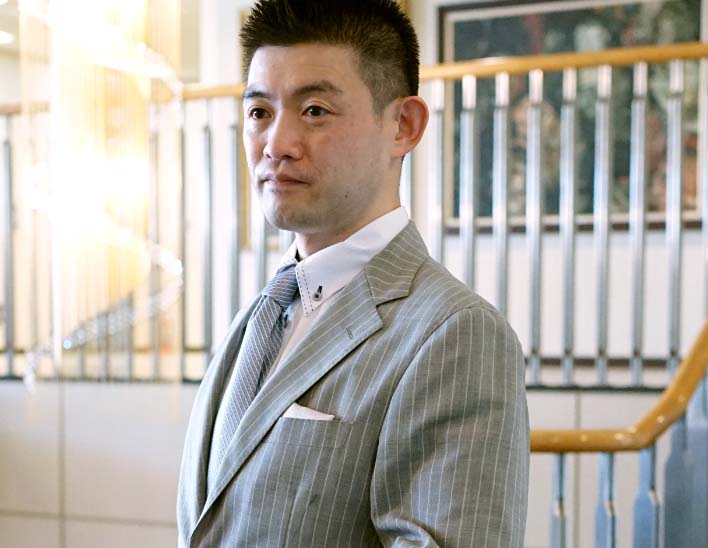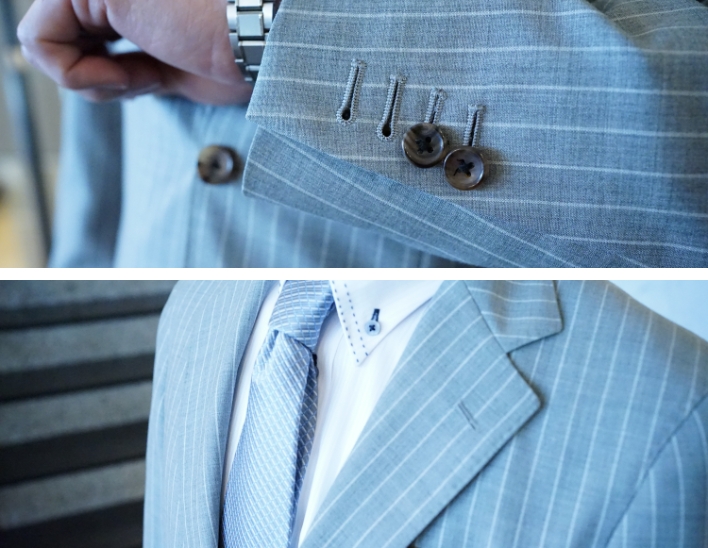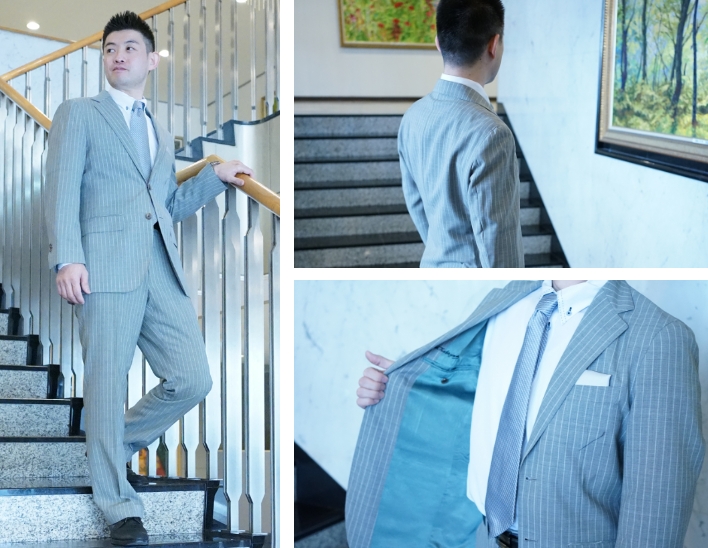 STAFF紹介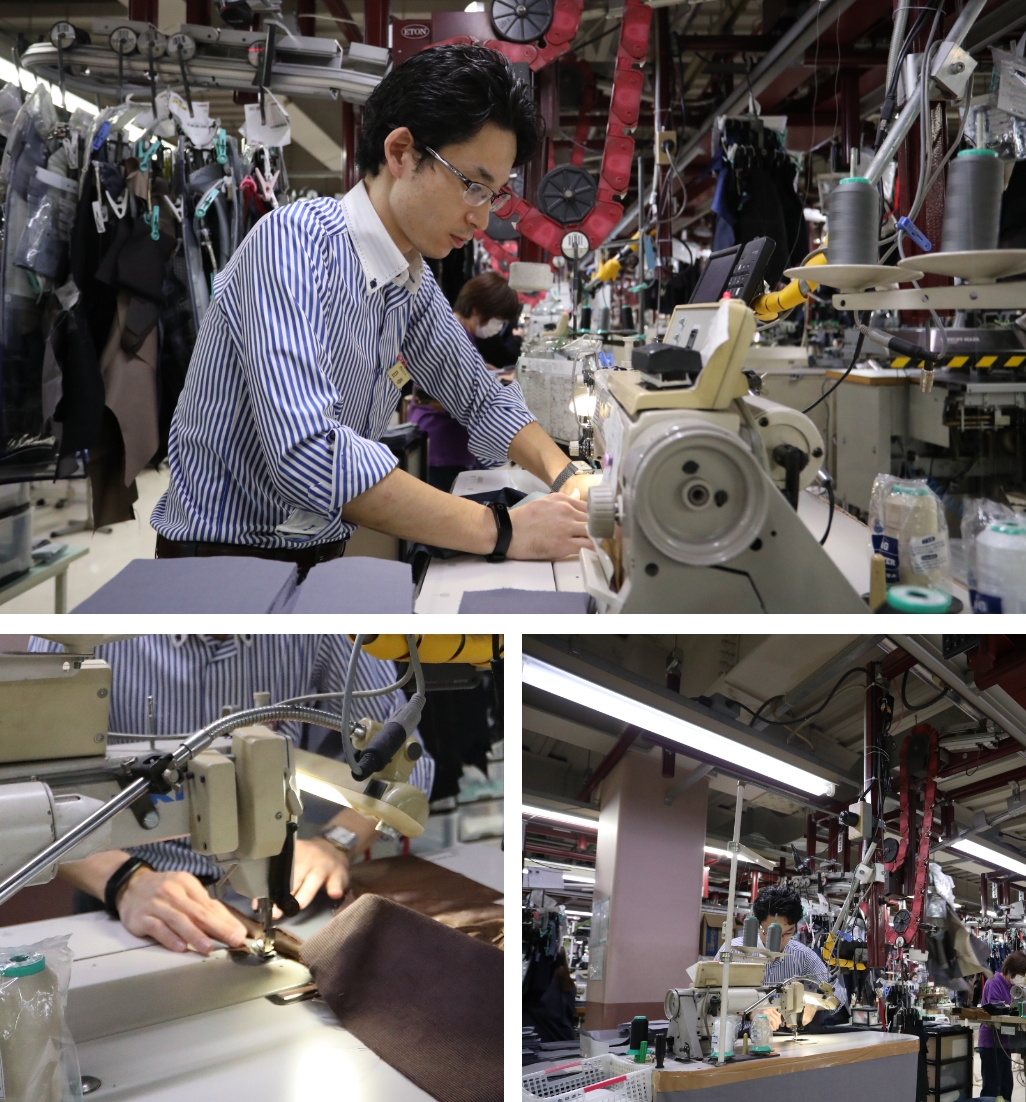 PROFILE
Born in Chizu Town, Yazu District, Tottori Prefecture.
He has gained experience in all production processes and has two and a half years of sales experience in Nagoya. He currently supports suit manufacturing in the process of sewing parts.
License / Qualification
National Qualification: Men's clothing manufacturing Ready-made clothing First grade
Goodhill Test: Level 1
Hobby:
Going for a drive in my convertible with the top down
Motto:
Making a custom-made suit is a glamorous job in the apparel business.
Daily Work
We sew each part while feeling the feelings of the person who ordered it. Even with similar materials, the hardness of the outer fabric is different, and the form and detailed specifications are different. I think that the skill of a craftsman by hand is indispensable for the work that accurately matches the difference.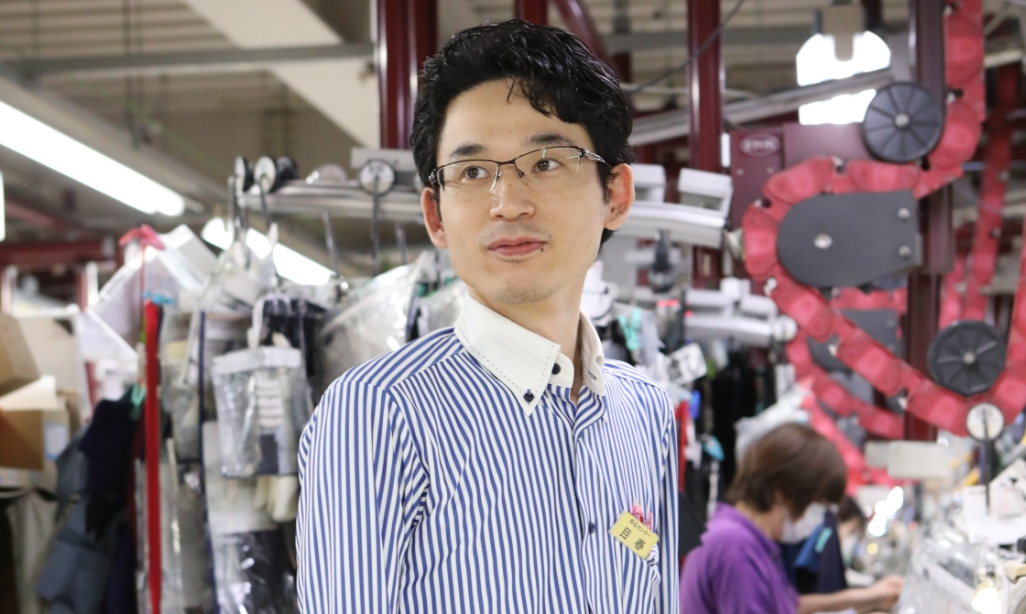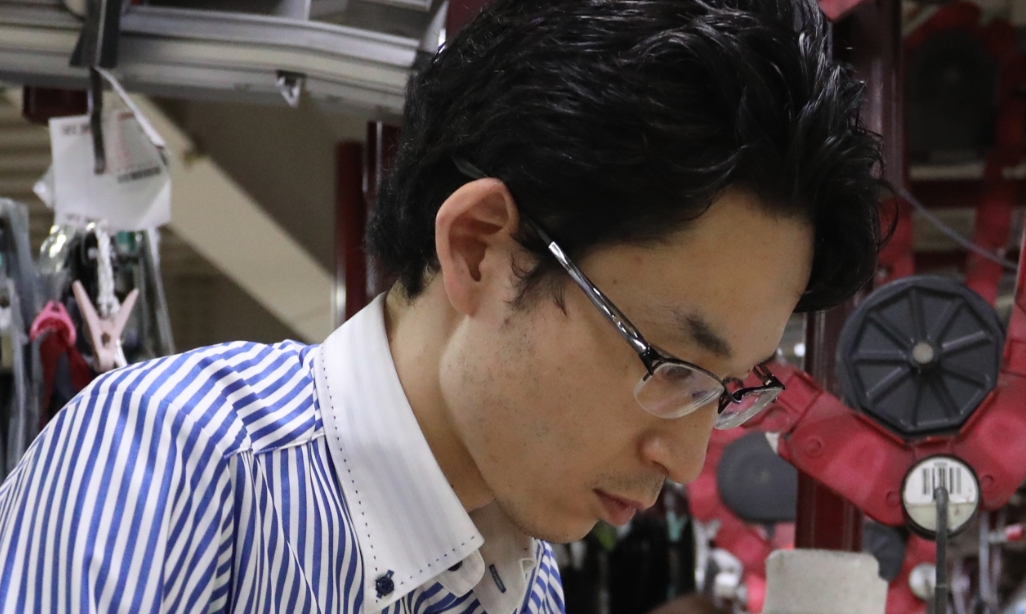 Fun Featured in the Parts Sewing Section
If you keep making one part, you may not be able to understand the whole picture of the suit. However, I am impressed every time when I see one suit made of the parts that I have sewn with all my heart, with the combination of the feeling that I first met and the feeling that I knew from before. It is because I, myself, know the fun of ordering custom suits.

NRA model & Stencollar Coat /ナローモデル&ステンカラーコート
Form That Makes Use of My Body Shape
A narrow model with a slender silhouette makes the most of my own body line, and is tailored with the leg length effect intentionally. I think the biggest attraction of custom-made suits is that they make our own form more beautiful.
I can also have a coat!
Huh! I can not only have suits but also coats! With joy, I got a half coat. It was a good chance to choose a fabric with a pink high-impact camouflage pattern, for the purpose of spring use. Truly, it's just an impression-emphasized coat.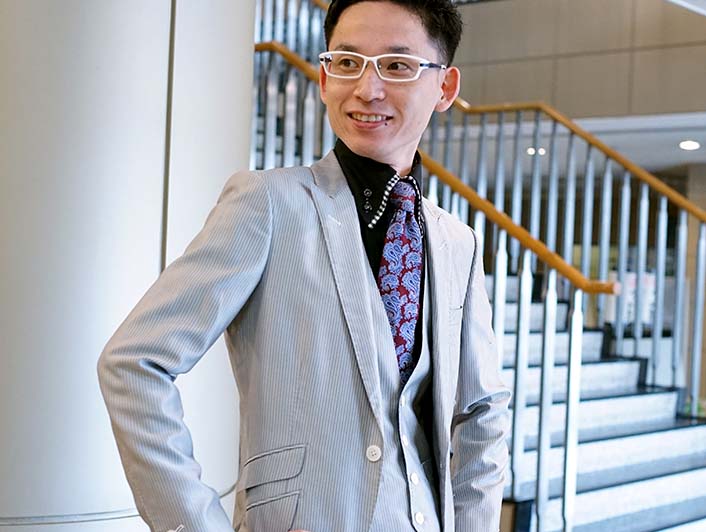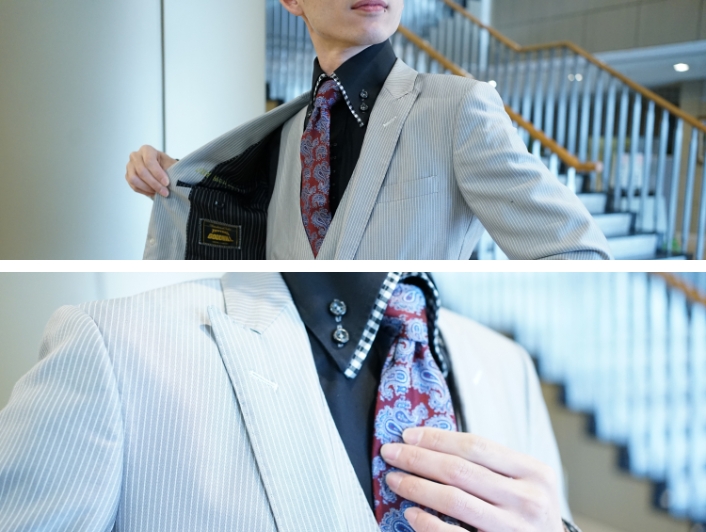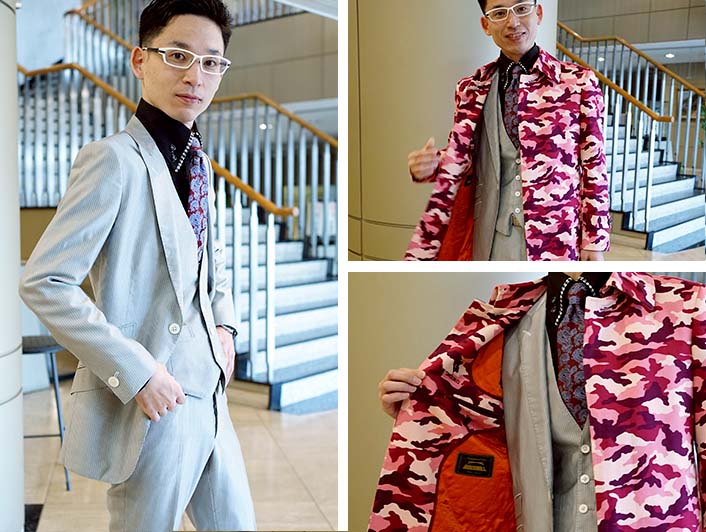 Dressy NEW British model /ドレッシーなニューブリティッシュモデル
A Suit Tailored for My Wedding
This is one of the most memorable suits I have ordered, the one for my own wedding ceremony. The outer fabric is flashy with luster and color, the lapels are large and sharp, and the pocket flaps are all squares, aiming to give a gorgeous and sharp impression.
Customized Embroidery to Meet Our Preferences
Since it was for my wedding, I was particular about embroidering messages. I realized the high skill of the embroidery department on the same Parts Center floor as mine. I might have gone a little too much, but it's a perfectly dressy suit that I have always desired.