Automatic Cutting by Number Control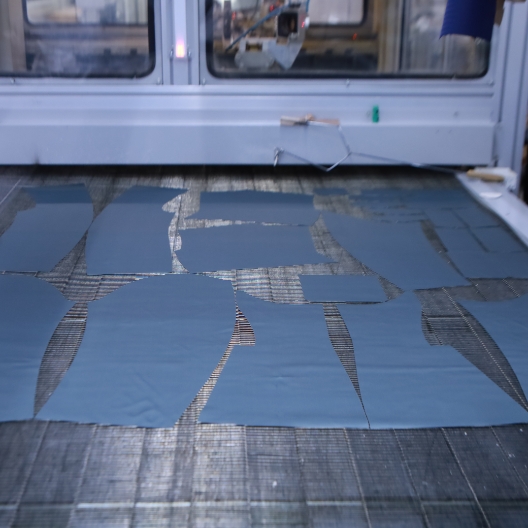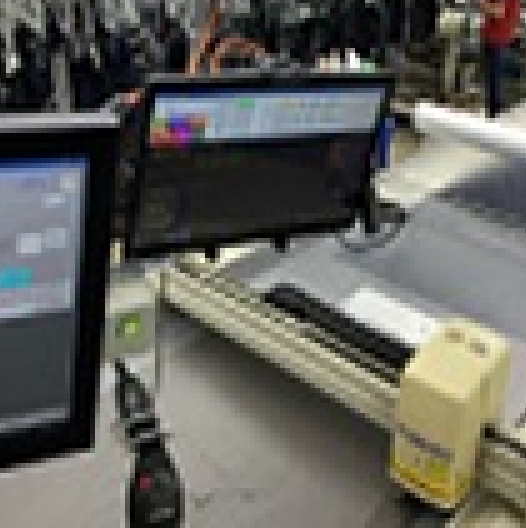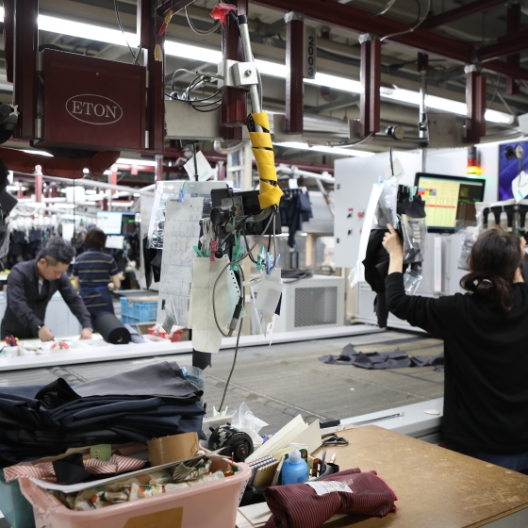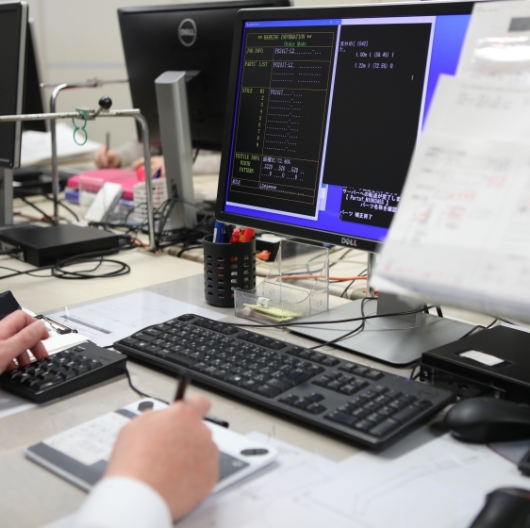 Automatic Cutting by Number Control
The fabric chosen by each customer is cut suit by suit. Marking data is retrieved from the database using a barcode and cut by an automatic cutting machine. A total of 22 cutting machines perform automatic cutting from the outside fabric to the lining and interlining attachment. High precision and speed are the essential factors for the automatic cutting machine. The cutting of one set takes three minutes for the outside fabric, and a high speed of 50 seconds for the lining with the world's fastest laser cutting machine. By adopting a network method that gets data individually, cutting mistakes have been eliminated and work efficiency has been further improved. In order to meet the requirement of short-term deliveries in the market, we cut 1000 sets per day and ensuring the accuracy, supply them to the parts manufacturing process.
STAFF紹介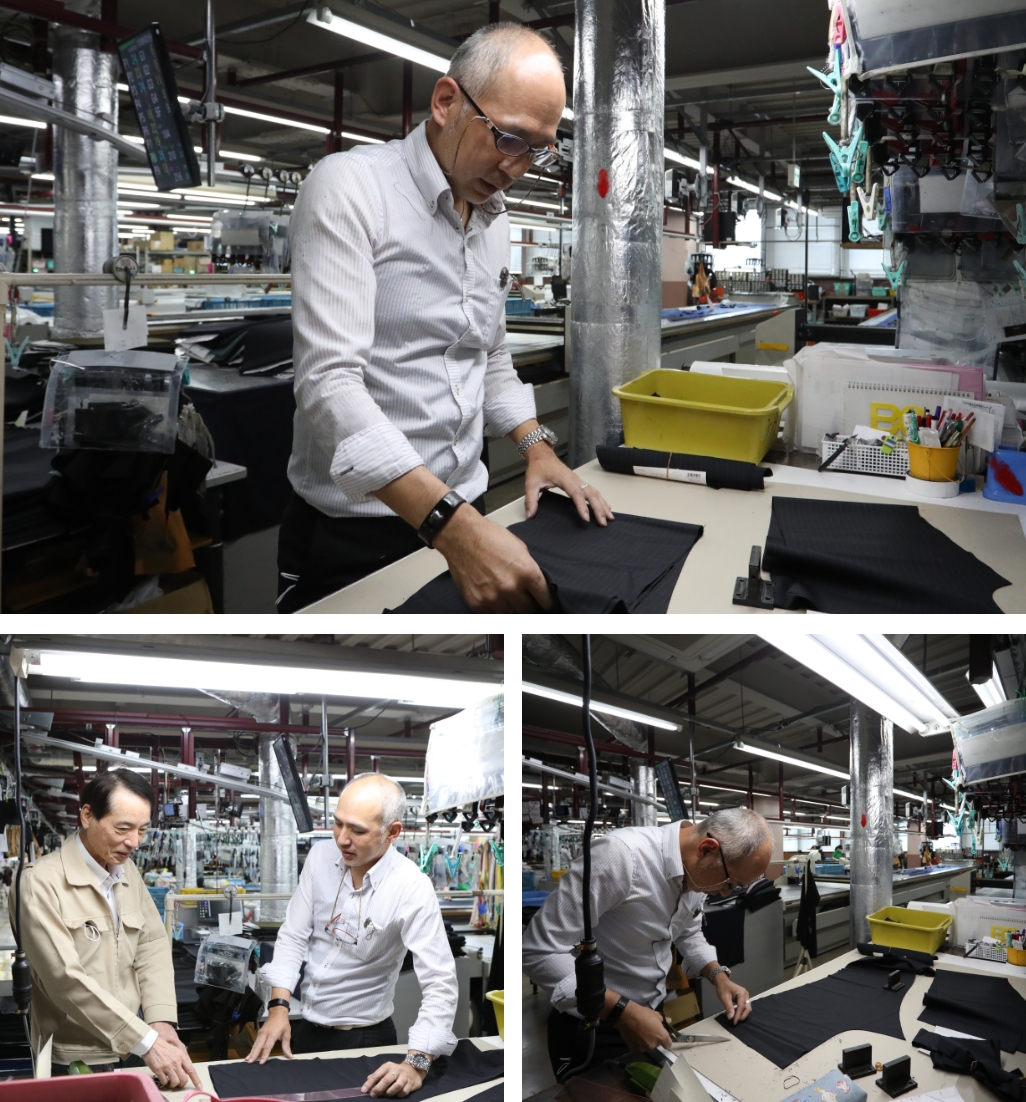 Cutting Department
Mr. Taniyama
PROFILE
Born in Tottori City, Tottori Prefecture.
After joining Goodhill, he was involved in sales in Yokohama and Tokyo from the age of 26 to 29. Now, as a skilled technician with a more than 25- year-career, he makes full use of automatic cutting machines and his own craftsmanship skills at the cutting center, and he is responsible for the first stage of the custom suit production process as an expert in fabric cutting.
License / Qualification
National qualification: Men's clothing manufacturing Pattern-making – 2nd grade
Hobbies
Fashion, Photographs, Watching movies, Sports
Motto
Even if I take responsibility for only one process of manufacturing, my mind is that of a tailor who makes the whole suit.
My Daily Work
The work of cutting is the first production process of making a suit. In this very first process, I have a sense of responsibility and pride in tailoring one suit. At first, to be honest, I couldn't tell what part was cut because every part was far from the shape of a suit at the first stage. However, now I know the structure of all the parts of the suit and I deeply understand the importance of each piece of cloth, from large patterns to small ones. Now I am passionate and more and more proud of every task.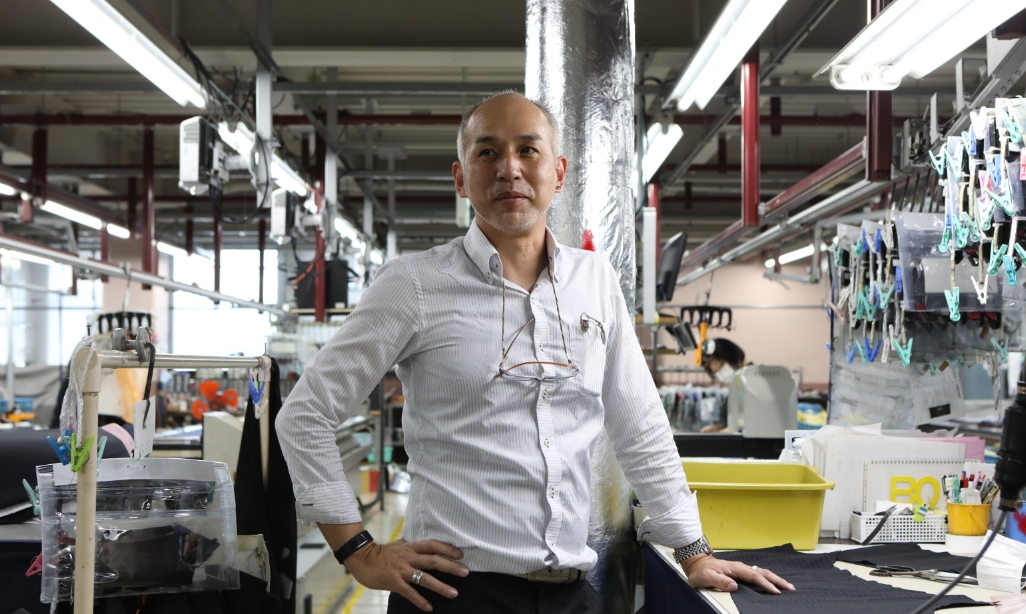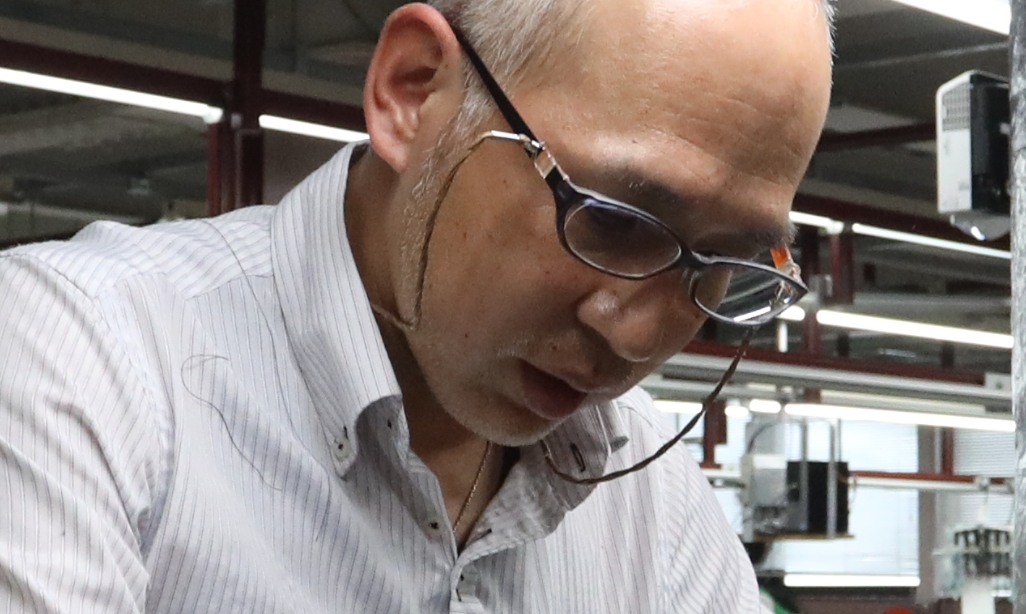 The Joy of Craftsmanship
Talking of a factory production line, people might imagine that workers in uniforms line up on the production line and repeat the same work every day, but the interesting point in Goodhill custom-made manufacturing is to make products with slightly different shapes every day. I can realize that I am playing a part in craftsmanship, rather than working hard like a robot. Each work is full of craftsmanship inherited from more experienced colleagues. Also, it's good to be free in clothing. I can work in my favorite suit. I really feel a tailor's spirit. I am proud of my cutting work.

Attachment to Suit Style
A suit is the best fashion item to really make a person look beautiful when made in a shape that matches that person. I made the extremely slim silhouette tailored so that the X-line stands out. I reattached all the buttons manually to my favorite ones.
Attachment to Details
The outer fabric is ordinary, but I have a particular preference about changing pockets, lining, and buttons. When I was young, I was often told I resembled Nicolas Cage, so I put the embroidered name "Nicolas" in hiragana. Nowadays, I am called Steve Jobs, so I put the name "Jobs" on the other side.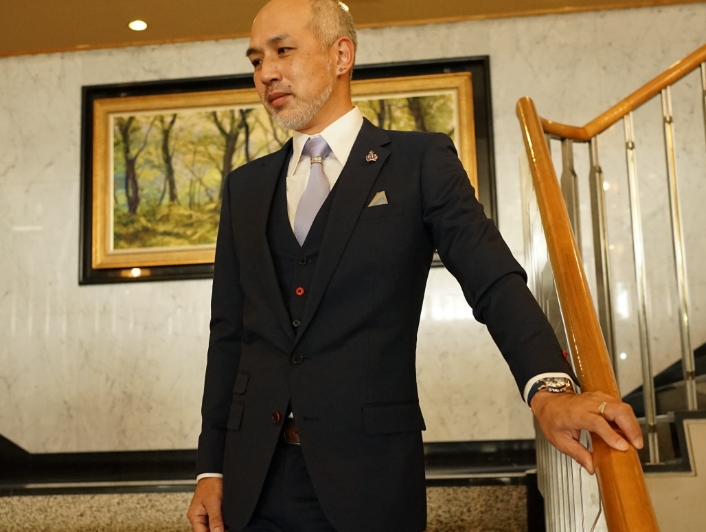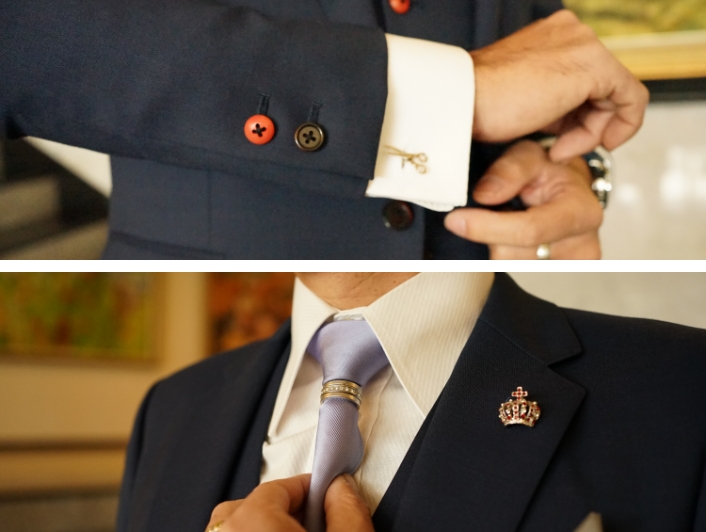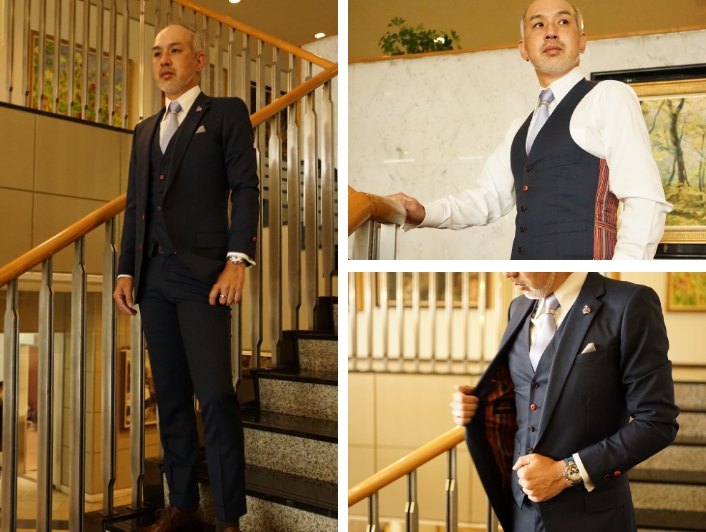 Classico Italy CL2 /Classico Italy CL2
The Suit Full of Passion Using the Canonico Fabric
Matching with the Classico Italian style, this is my important suit ordered with my adorable high-class fabric Canonico representing Italy. In order to make the best use of the supple and well-colored Canonico texture, I ordered it with a slightly loose silhouette.
A Custom-made Suit is Interesting but Difficult
Because I am so enthusiastic about the suit, I have a deeply particular feeling about the details. The highlight is a specially-designed pocket called "Kendaiba" on the back. The idea hit me as cool to use the striped fabric to match the front side! When I chose a lining that is similar to the outer fabric, the precious "Kendaiba" is less noticeable.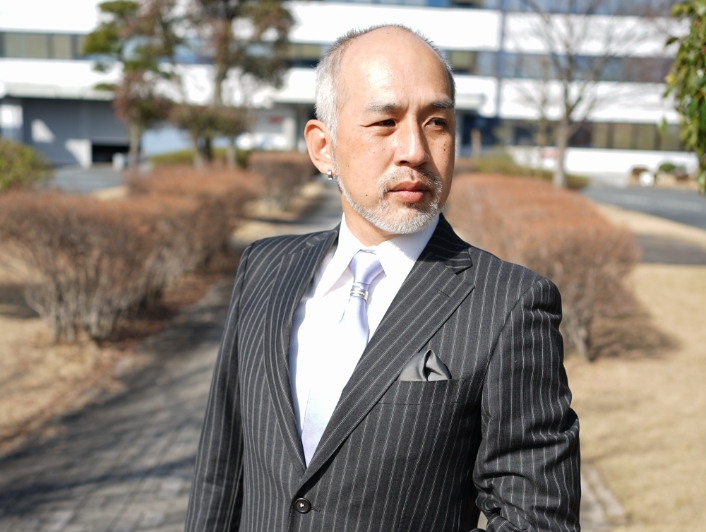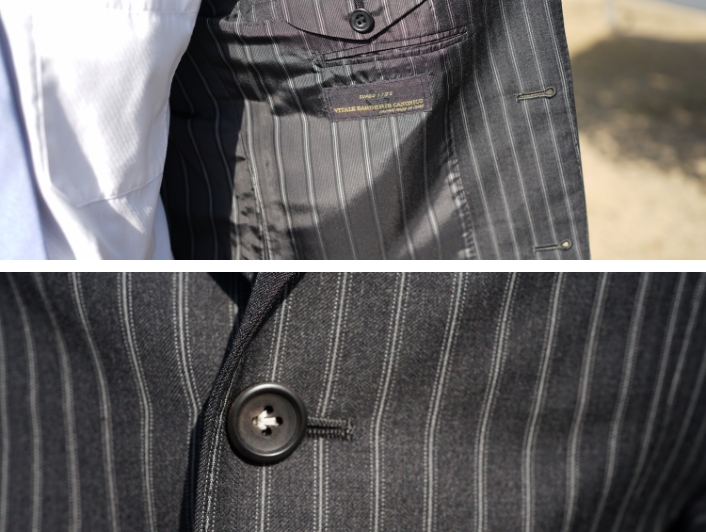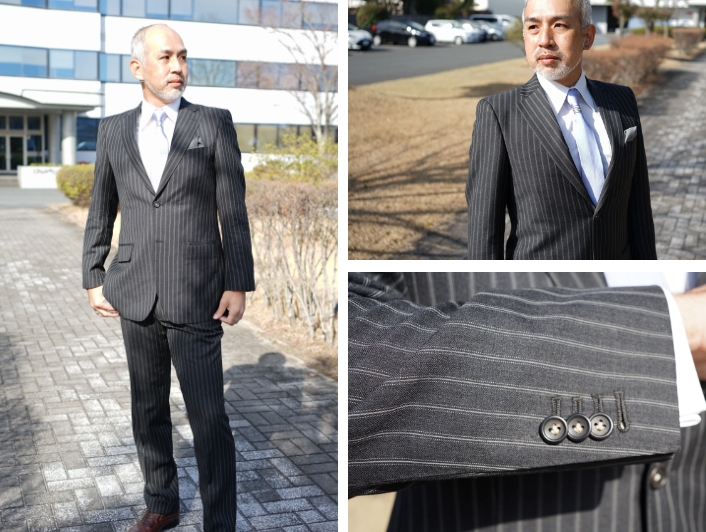 STAFF紹介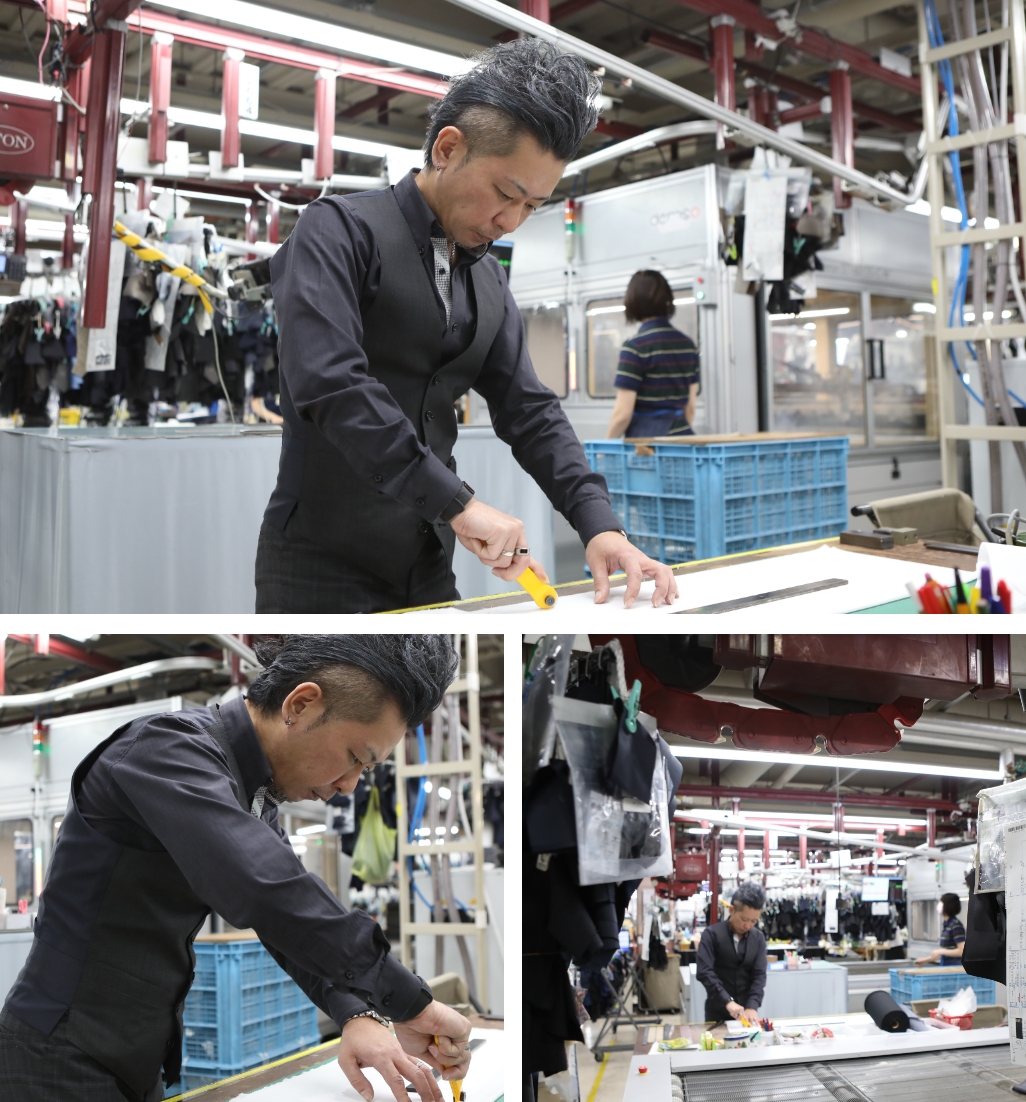 Cutting department
Mr. Fukuyasu
PROFILE
Born in Tottori City, Tottori Prefecture.
After graduating from high school in Tottori City. He threw himself into the world of suit making at Goodhill without knowing from right to left. Since then, he has been fascinated with the charm of custom-made suits. He has gained experience in each production process, and am now in charge of the cutting process.
License / Qualification
National qualifications: Men's clothing manufacturing
Pattern-making- 1st grade
Ready-made clothing- 2nd grade
Goodhill Test: Level 2
Hobbies
Driving, travelling
Motto
Cutting accuracy that does not allow even a one- millimeter error
My Daily Work
Fabric parts are cut with an ultra-high-speed laser cutting machine and are checked for scratches. When scratched parts are found, I cut additional parts by hand. Small parts that are difficult for machines are also cut manually. The parts are handed over to the next parts sewing department.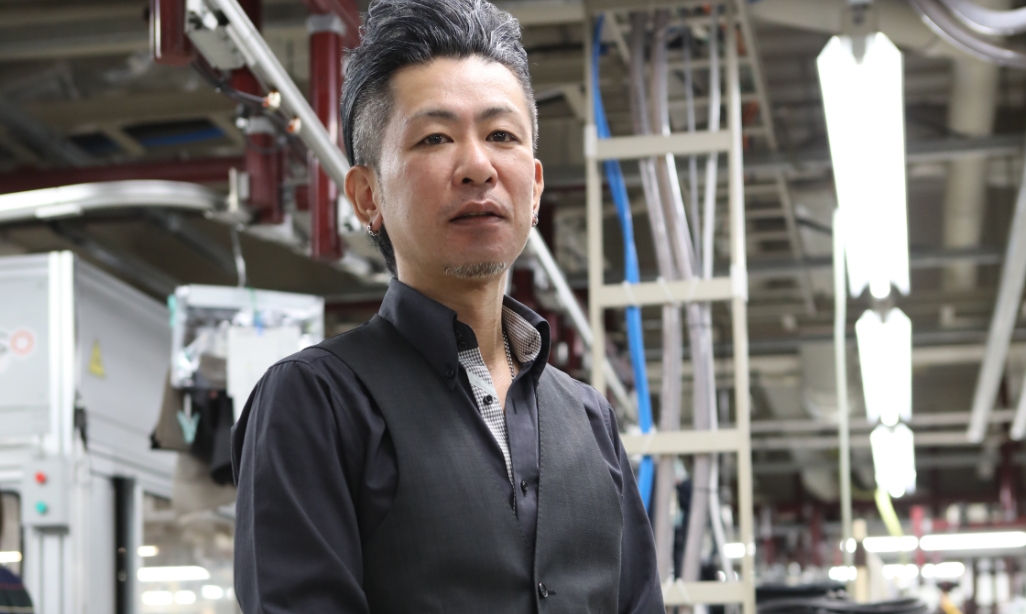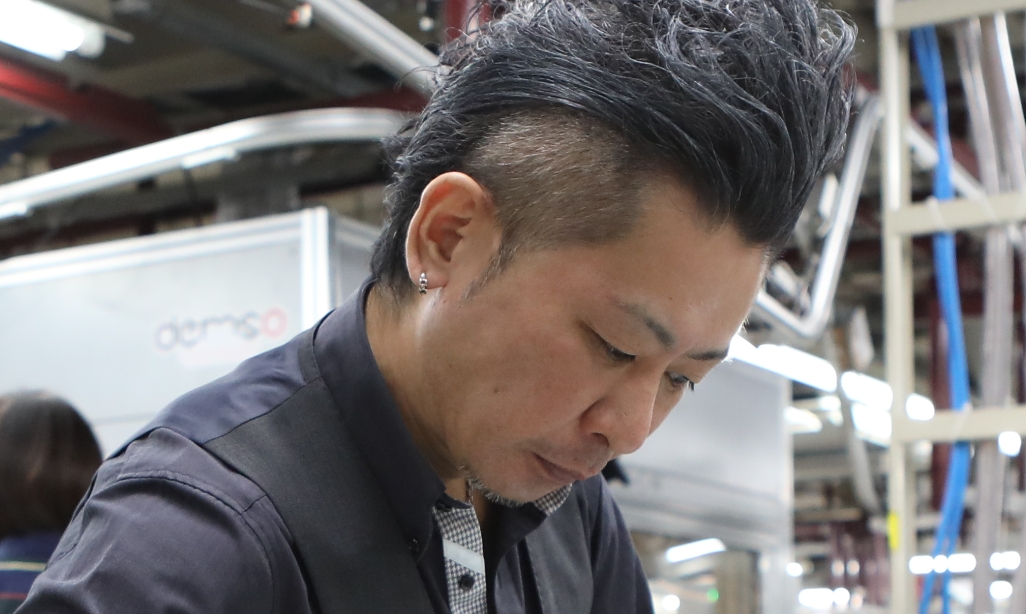 Craftsmanship that Goes against My Appearance
Honestly speaking, when I was young, I thought that suits were stiff. I happened to get a job at Goodhill. I came across an attractive view of making custom-made suits. As I experienced various production processes, I became obsessed with its charm. I don't think there are any other fashion items that can meet your needs like this. It may be because I have inherited the spirit of manufacturing from my seniors, but furthermore, I think that it is a craftsmanship grown in myself.

NRA model /Narrow model elastic
My Own Custom-made Style
From the basic style of a narrow model, I added a sickle correction to the arm holes so that I can move my arms easier and used an elastic material, enhancing the slim style of the sleeve shape. This is my special item that I aimed for both a slimmer silhouette and a comfortableness to wear.
Stick to the Overall Balance
As the length of the jacket and the sleeves was shortened, the pants were also shortened with correction for a beautiful leg shape, and with raising the position of the knees slightly. The width of the hem is narrowed to give a good impression avoiding uncool-looking due to the shortening. The jacket back is half-lined so that it fits the waistline.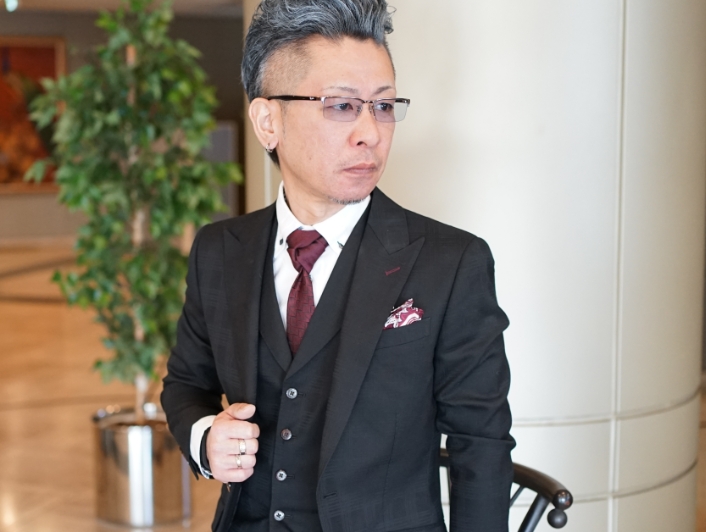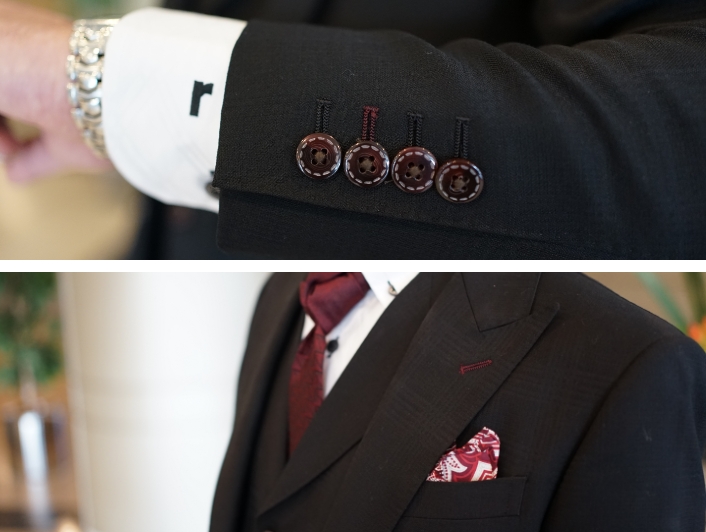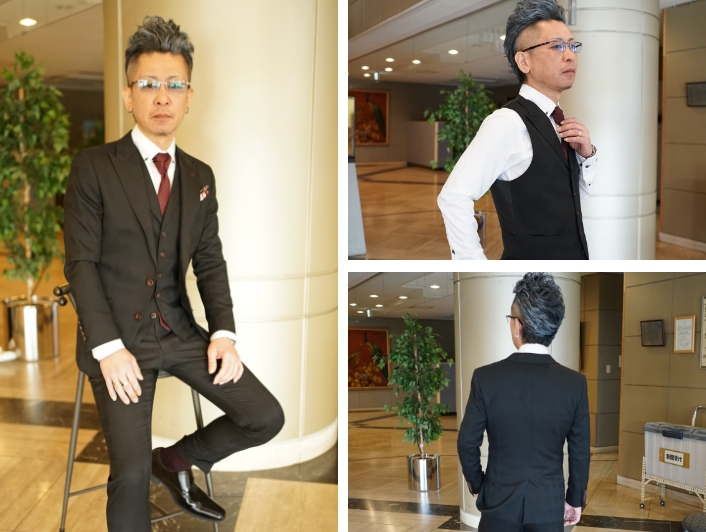 STAFF紹介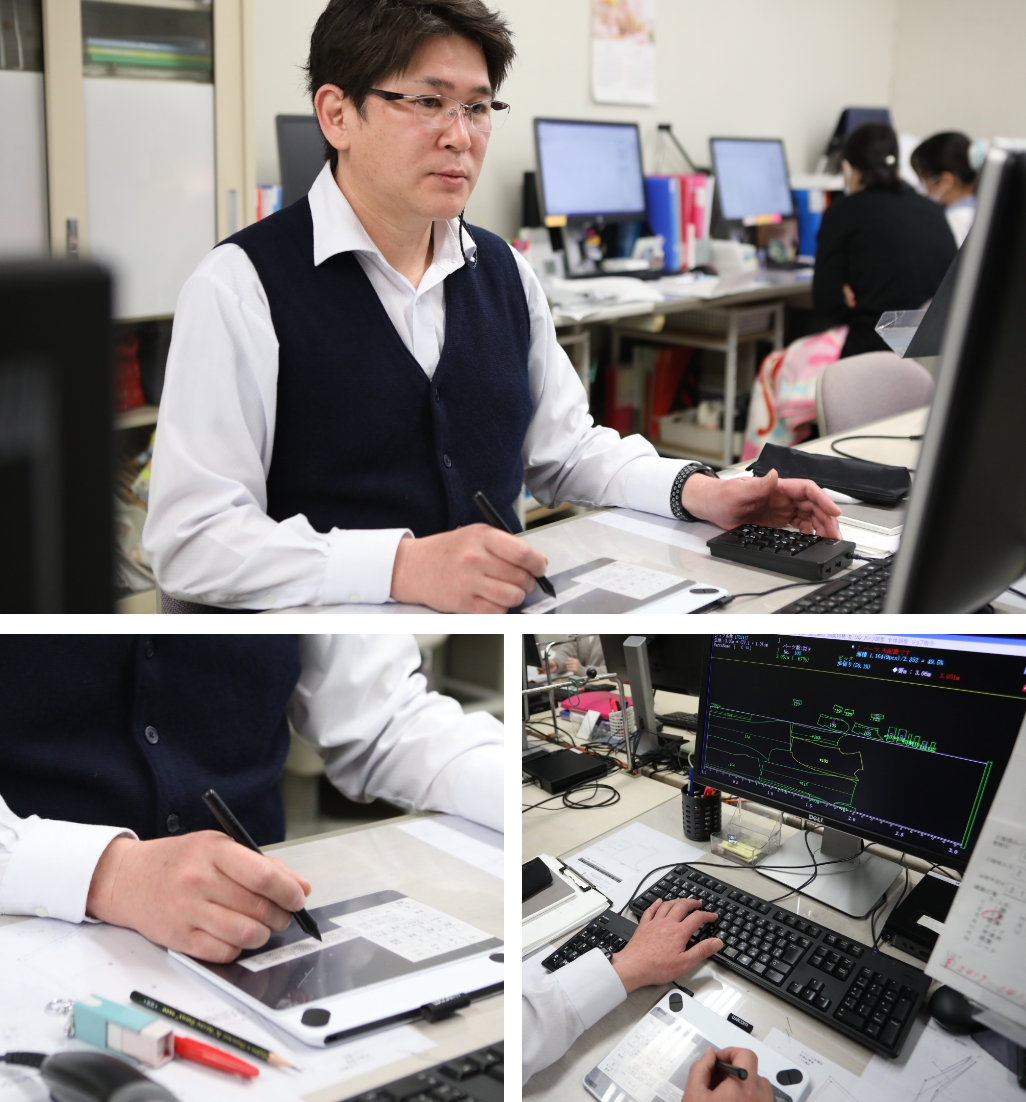 Cutting Department
Mr. Kitayama
PROFILE
Born in Tottori City, Tottori Prefecture
Since he joined Goodhill, he has acquired all the manufacturing skills and those experiences enabled him to take responsibility for the process of converting the cutting pattern of each piece of clothing into CAD data, which is the pre-cutting process.
License · Qualification
National Qualification: Men's clothing manufacturing
Ready-made clothing- 1st grade
Goodhill Test: Level 1
Hobbies
Walking, Muscle training
Motto
Efficient cutting CAD system is the essential factor in the good price of Goodhill's products.
My Daily Work
Suit fabrics are basically high-end quality though some are cheap. The production cost of one suit is determined by what quality and quantity of fabric is used. Our mission is to supply more people with custom-made suits at a reasonable price. We are proud to play a role in realizing the Goodhill mission.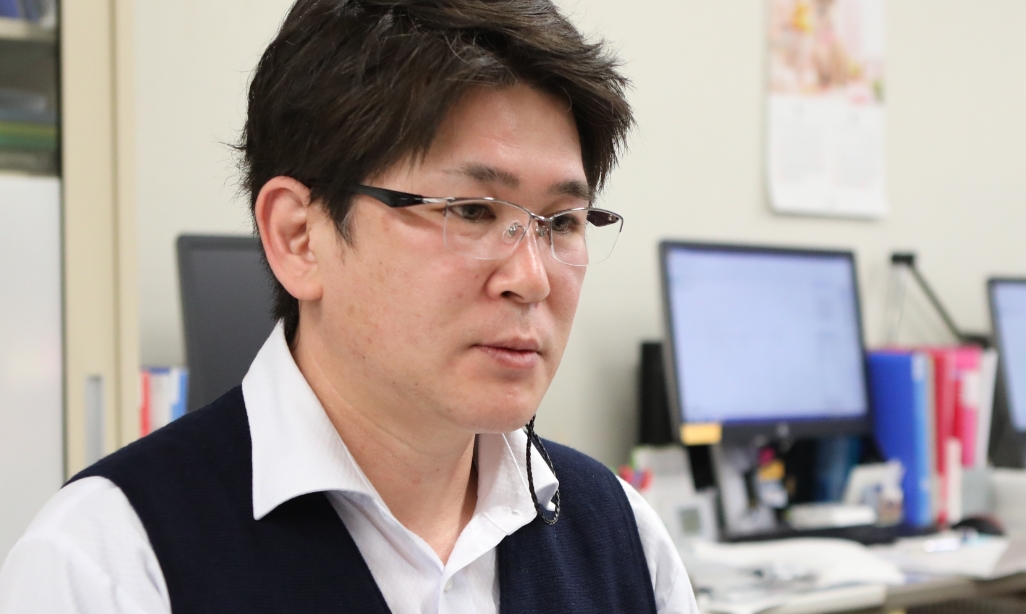 Being familiar with all production processes
I fully acknowledge the importance of each small part because I have accumulated experiences in all production processes. I built the best CAD data by not only efficiently packing the cutting patterns, but also thinking about the flow from the cutting center to the parts center, and the assembly center. Basically, my work is completed by myself, so I can face the computer all day long. That's why I wear a suit as working clothes, controlling my mind every day, and creating data one by one.

NEW British model /ニューブリティッシュモデル
Making My Big Body stylish
People whose bodies are solid tend to order designs that are easy-to-wear or comfortable, or buy big ready-made suits that fit their body shape. They definitely look uncool with unfitted designs. I think that a well-fitted custom-made suit makes a person with a solid figure charming and beautiful.
Choice of the Fabric that Suits Me
The outer fabric is a gray checkered pattern that is neither too flashy nor too plain. I learned the phrase "Clothes show personality" at this workplace. I think a suit truly shows personality as it has an established style. If I choose my taste, my own self will naturally come out.