Renewal of female employee uniforms, Tottori Bank on the 70th anniversary of its founding
(Article published in the Nihonkai dated November 1, 2019)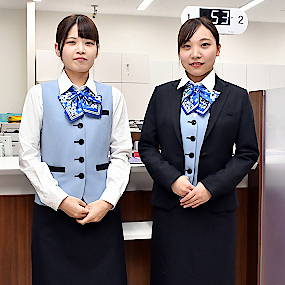 Tottori Bank is celebrating its 70th anniversary and renewed the uniforms of female employees on the 1st. The design makes use of blue , the bank's corporate color, and it "represents our corporate philosophy of contribution to the local community and stable management." the bank said.
A project group of female employees was formed to discuss design proposals and its functionality and has done the renewal for the first time in eight years. According to a questionnaire to all female employees, the basic skirt and vest were decided with a jacket or a cardigan (winter clothes), and additionally a scarf with the prefecture flower, a pear flower and the company logo was adopted.
Goodhill settled on the final design and undertook the production for about 500 people. The company had already introduced tablet terminals for inputting order slip data effectively, and the cost of introducing a new system to each store is only several thousand yen for electoronic measuring equipment. Currently, the system has been introduced at the Goodhill Tottori store and has been evaluated highly. The company is considering to expanding the system to all Goodhill and F-one stores in the future. Furthermore, it will be spread to other clothing stores having transactions with the company to enhance customer services.